Tohou Grand Theft Auto

Based on Grand Theft Auto Created by:

Rockstar Games

Format:

Anime Series

Genre:

War, Comedy, Action.

Rated:

TV-MA for Intense Violence, Mature Humor, Sexual Content and Strong Language

No. of Episodes:

354

Distributions:

Rockstar Games

Animation Production:

Take Two

Starring:

Sam Houser, Dan Houser
Tohou Grand Theft Auto is the first anime Series to be based on Grand Theft Auto. The series began in January 16, 2014. It simularly places GTA IV.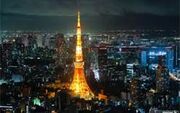 Moving from Hiroshima to Tohou City, Konota was experiencing some bad people, People so bad many has moved from Liberty City, However it isn't a full population, The first night Someone had break down the door, However The ID couldn't be found from the mask, Konota was Tied to the Chair Blindfolded and Wounded, The one in the mask was actually her old friend which she has tried to kill after being sexually abused, She was forced to give him all her stuff or else her limbs will be cutted off so will her head, Her old friend was later caught by the TCPD (Tohou City Police Department), She was then free and gotted a better security system it gone peaceful untill a massive bombing took place from the planes in Liberty City, The aftermath was the collapse of most skyscrapers, But the Tokyo Tower Still Stands and even did when the Tsunami Broke in because of the cause of the 2011 Tohou Earthquake.
Censorship
Edit
This show has many countries to consider the film a bad influence on Little Childern, This shown has been banned in North Keorea, Venezuela, Australia, New Zeland, and Haiti, Afghanistan, Pakistan, And the Arab World. This show was later Unbanned in Australia in October 14, 2016 and later Released Uncut Boxes in November 2, 2016 and was Put a MA-15.
Reception
Edit
This show has been given Positive Reviews of the show, This show was confirmed a great success over many anime franchises.
Controversy
Edit
This show has gained Controversy In the Episode "Getting Up High" has shown Nudity in A couple Scenes, They were also worried about the Use of Crystal Meth, Rockstar Games has then made a Warning to stop drugs, In The Episode "Reloading" There were References about the War agains North and south Keorea, In The Episode "Bloodshot" There were reference's about the Death of Saddam Hussein, But the scene was removed and even removed in Uncut Boxes, Not very controversies were used.
Ad blocker interference detected!
Wikia is a free-to-use site that makes money from advertising. We have a modified experience for viewers using ad blockers

Wikia is not accessible if you've made further modifications. Remove the custom ad blocker rule(s) and the page will load as expected.