Ad blocker interference detected!
Wikia is a free-to-use site that makes money from advertising. We have a modified experience for viewers using ad blockers

Wikia is not accessible if you've made further modifications. Remove the custom ad blocker rule(s) and the page will load as expected.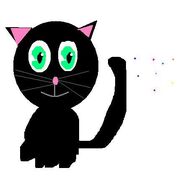 The Catcholic witch
(リトルウィッチ少女 lit.
The Little witch girl
) is an upcoming anime film based on the book by Ellie Brocklyn (a.k.a Ferbette).The film was directed by Kunihiko Ikuhara best for directing the Sailor Moon movies and the English version was produced by Frank Marshall.
Japense and Engish Cast
Edit
| | | |
| --- | --- | --- |
| Chacrther | Japan version | US Version |
| Bridgitta | Yuria Nara | Elle Fanning |
| Meowchi | Arata | Nathan Lane |
| Granny | Chieko Baishō | Barbara Cook |
| Annastia Salem | Emiri Katō | Kristina Reyes |
| Vanessa Salem | Rina Koike | Dakota Fanning |
| Sophie Salem | Nozomi Ōhashi | Ashley Boettcher |
| Aka (The Devil) |  ??? | David Sobolov |
| Anges | Yumi Adachi | Olivia Olson |
| The Preist |  ??? |  ??? |
| Meowchi (meows) | Naoki Tatsuta |  ??? |
| Toraburu The Mouse | Akiko Yano | Tress MacNeille |
| Juilet Hunsen/Horner | Mayuko Fukuda | Elizabeth Gillies |
| Henry Horner | Takuya Kimura | Crispin Freeman |
| Toraburu The Mouse (speaking) | Rumi Hiiragi | Tara Strong |
| Elizabeth (the Salem girl) | Yuki Matsuoka | Eliza Bennet |
| Husdon (the English Salem boy) | Hiroki Doi | Thomas Sangster |
| Kuwchi (the African Salem boy ) |  ??? |  ??? |
| The Salem children (credited in the japense version as 魔女は子供たちの絶望的な魂 lit. the doomed souls of the children) | ??? | Tara Strong(girls) /Jason Mardsen (boys) |