Takeru & Hikari
Format
Anime series
Created by
Hiroshi Nishikiori
Writer(s)
Andrew St. Germain
Director(s)
Kenichiro Watanabe
Takao Kato
Andrew St. Germain
No. of episodes
26
Run time
22 min.
English Network
Anime Network
Sentai Network
B-Master Animation
Nickelodeon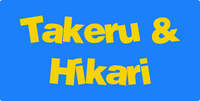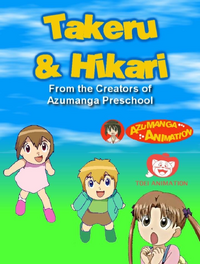 Takeru & Hikari is an anime series and a spin-off to Azumanga Preschool made by both Azumanga Animation and Toei Animation. The anime would feature characters from Digimon Adventure 01 and Gakuen Alice.
Featuring two young kids Takeru Takaishi and Hikari Yagami who both do misadventures and use their imagination (like imagining anything make believe) in this slice of life, comedy, and fantasy series. Their friend Mikan Sakura from 5th grade elementary school is kind of jealous to the 2 at first since they think they're more better than her. But then she leans that talent isn't the only thing, it's being friends.
Characters
Edit
Main Characters
Edit
Japanese: Hiroko Konishi
English: Wendee Lee
Japanese: Kae Araki
English: Lara Jill Miller
Japanese: Kana Ueda
English: Moneca Stori
Supporting Characters
Edit
Japanese: Rie Kugimiya
English: Angora Deb
Japanese: Umi Tenjin
English: Kath Soucie
Japanese: Ai Maeda
English: Philece Sampler
Japanese: Yuko Mizutani
English: Colleen O'Shaughnessey
Japanese: Sawa Ishige
English: Brina Palencia
Japanese: Ai Nonaka
English: Luci Christian
Japanese: Rie Kanda
English: Sasha Paysinger
Japanese: Chiwa Saito
English: Jamie Marchi
Japanese: Junko Ueda
English: Kim Prause
Japanese: Miwa Matsumoto
English: Laura Summer
Japanese: Yuka Tokumitsu
English: Edie Mirman
Natsuko Takaishi (Takeru's Mother)
Japanese: Chika Sakamoto
English: Barbara Goodson
Hiroaki Ishida (Takeru's Father)
Japanese: Hiroaki Hirata
English: David Greenlee
Yuko Yagami (Hikari's Mother)
Japanese: Yuko Mizutani
English: Dorothy Elias-Fahn
Susumu Yagami (Hikari's Father)
Japanese: Susumu Chiba
English: Doug Erholtz
Yoshie Izumi (Koushiro's Mother)
Japanese: Rie Tanaka
English: Mari Devon
Masami Izumi (Koushiro's Father)
Japanese: Masami Kikuchi
English: Jeff Nimoy
Satoe Tachikawa (Mimi's Mother)
Japanese: Yuka Tokumitsu
English: Julie Maddalena
Keisuke Tachikawa (Mimi's Father)
Japanese: Takahiro Sakurai
English: Dan Woren
Toshiko Takenouchi (Sora's Mother)
Japanese: Toshiko Fujita
English: Elizabeth Rice
Japanese: Masaaki Tsukada
English: Andy McAvin
Japanese: Romi Park
English: Shelley Calene-Black
Japanese: Yonehiko Kitagawa
English: John Swasey
Japanese: Yui Horie
English: Kira Vincent-Davis
Japanese: Chiwa Saito
English: Rachel Hirschfeld
Japanese: Nanae Katou
English: Luci Christian
Japanese: Sakura Nogawa
English: Mariela Ortiz
Japanese: Kimiko Koyama
English: Alison Retzloff
Japanese: Kozue Yoshizumi
English: Monica Rial
Japanese: Yuko Goto
English: Stephanie Sheh
Sound Effects
Edit
Aside from using the same SFX used in Azumanga Daioh, the anime would heavily use DePatie-Freleng sound effects (containing Warner Bros./Looney Tunes sound effects, Jay Ward/Rocky & Bullwinkle sound effects and a few Hanna-Barbera sound effects) for comedic parts.
Ad blocker interference detected!
Wikia is a free-to-use site that makes money from advertising. We have a modified experience for viewers using ad blockers

Wikia is not accessible if you've made further modifications. Remove the custom ad blocker rule(s) and the page will load as expected.