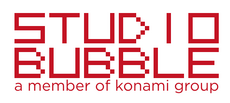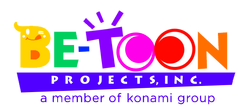 STUDIO BUBBLE is a japanese animated production subsidiary of Konami founded by former members of Ganbare Goemon 1998 anime and TwinBee Paradise in 2008. Its name is based on the name of Konami's Bubble System from the 1980s. Later, when the former CG designers and animators of Pop'n Music game series (e.g. Shio, Eimy, Mayo and tam) began to work at the company, Be-Toon Projects, Inc. is launched as a project production label for BEMANI related productions and secondary animation unit being best known for Pop'n Tunes, inspired by character animations of Pop'n Music, and its name is referenced to the musical date file of every IIDX games Be-Music Source. Ever since other companies produces those of Konami anime successes such as; Yu-Gi-Oh, Gurren Lagann and Quiz Magic Academy (OVA), BUBBLE can focus on producing Konami adaptions as well as BEMANI related media. Even Konami acquired Hudson Soft, BUBBLE can produce Hudson adaptions too. While producing 2D hand-drawn anime, While they produces their adaption, they even hold the rights to classic media adaptions based on Konami and Hudson to distribute. Studio Bubble also produces some CG animated media. It was powered by MikuMikuDance for two of animated segments from Pop'n Tunes: DDR Toons, and Pastel-kun CG animated Reflec Beat shorts, even the Linus opening scenes for Pop'n channel themed OP of Pop'n Tunes, as Dance Image Unit. Even when they produce CG materials, sometimes they rotoscope from CG to 2d hand-drawn.
STUDIO BUBBLE has a deal with 4K Media Inc. as a primary contractor for international dubs (but sometimes edited out some scenes and with its own music for TV edits only), as well as international distribution. Even Sentai Filmworks has a deal with it for releasing too, and Madman Entertainment does for Australia.
As Be-Toon, it also collaborate with BEMANI to produce many character animations for Pop'n Music series and VJs for IIDX, GITADORA and BeatSteam.
Studio Bubble has subsidiaries to affiliate with including Pop'n Bubble Korea.
Animation Units (Japan):
Bubble Unit (2D Hand-Drawn Animation but anime influenced styles, Better known as TwinBee Paradise and Anime Styled Sequences of Pop'n Tunes)
Be-Toon Unit (2D Hand-Drawn Animation but with extensive use of echo outlines, better known as Pop'n Tunes)
Dance Image Unit (CGI 3D Animaton, better known as DDR Toons, also some additional elements)
Affiliates:
Edit
Pop'n Bubble Korea
Bubble Bee Phillipines
STUDIO BUBBLE logo
Edit
Bubble System Countdown
Edit
We see the screen starts up in the boot sequence with black background with orange pixeled text a la Konami Bubble System Startup, and the numbers counts down from 10 as the Konami Morning Music plays, and then it cuts to the data reading sequence which is meant like "Program ROM OK" followed by the white line square grid and finally, the music stopped and the logo types and reads "STUDIO BUBBLE" and the Bubble System speech says "Presented by Studio Bubble."
Be-Toon Projects logo
Edit
Each logo variation has "Konami STUDIO BUBBLE presents" text at the beginning.
B-Kun Crayon Drawing
Edit
Similar to Konami's Diamond Head Productions logo, the animated logo is done in squigglevision, B-Kun is mainly drawn and colored with crayons above the logo "Be-Toon Projects, inc." Even character variations as well. The music is exactly Diamond Head.
Walking B-Kun logo
Edit
In the white pool of light on the floor in the black background, a la Konami Walking logo (1994-1999), B-Kun, from BEMANI Expo, walks to the left followed by the letters e-Toon until they stopped in the center. He, from far away from the screen, Walks and jumps right next to the word to form the logo and says "Be-Toon", the letters changes colors, the signal wave was send out form the letter T and two O's forms into eyes and wink. the words "P R O J E C T S, I N C." appears below the words of logo. The logo plays the music of Konami Walking logo.
Spinning Letters
Edit
In the Dark Blue and Black gradient background, a la the N64 Konami logo, the letters are spinning around the screen until it forms the logo in the center and the background fades into white. Like a previous logo, the signal wave was send out form the letter T and two O's forms into eyes and wink. the words "P R O J E C T S, I N C." appears below the words of logo. The logo plays the jingle of the N64 Konami logo as well.
Filmography
Edit
as STUDIO BUBBLE
Edit
The Pop'n Azumanga Anime All Star Hour (co-production, Pop'n Tunes, TwinBee Paradise and Bomberman Jetters characters only)
Twinbee Paradise Reimagined (TV Series)
Chochen TwinBee (aka Feature-Length TwinBee) (Movie Adaption of Detana TwinBee and TwinBee Yahho!)
Pastel Bee Paradise (TwinBee Paradise Spin-Off, OVA)
TwinBee Paradise: Bee Bunch (TwinBee Paradise Spin-Off, OVA)
LovePlus OVAs
Parodius Paradise (OVA series)
Parodius Paradise Clay shorts (TV Short series)
Parodius Paradise: The Butt Star of Death (OVA) (A Parody of Star Wars' Death Star)
Otomedius Amazing (OVA)
Parodius Paradise Parodius X Sky Girls X Otomedius OVA
Jikkyou Oshaberi Wai Wai Racing (Krazy Racers OVA)
Looney Parodius Space Jam (Crossover OVA Movie feat. Looney Tunes x Parodius)
Keroro Gunso x Otomedius (Crossover OVA Movie)
as Be-Toon Projects
Edit
DDR Toons (DDR Shorts) (spin-off segment of Pop'n Tunes)
HinaBitter OVA Paradise (Pop'n Tunes Spin-off)
Love Catch'n Purecul Lip (A Pop'n Tunes OVA Spin-off Series)
Gravity Wars (Sound Voltex OVA series)
Tsugidoka! The Animation (A Pop'n Music Anime series)
Licensed/Distributive Media Library
Edit
Tokimeki Memorial (OVA)
Tokimeki Memorial ~Only Love~ (TV Series)
Quiz Magic Academy (OVA)
Sky Girls (OVA)
Saint October
Hudson Soft
Edit
Bomberman: Yuuki o Arigatou Watashi ga Mimi ni Naru (OVA) (1995)