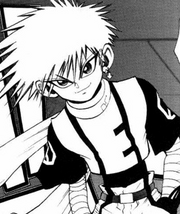 Neo is Cillian's Ansector and the True Main Antagonist of Season 16 of Cillian Darcy.
Personally
Edit
Neo's True Form is the Digiform Barian, He Has a Robot Arm, a Beast Form and a Dragon Army.
Galaxy Eyes Domination
Edit
Neo Is Created By the Red Kings Swordsmen after His Battle, but Now He Became the True Villainness to The People but then Cillian Returned to His Home World and About to Duel NEO
Neo Uses His V-Tachyon Dragon Deco 
Record
Opponent(s)
Episode(s)
Outcome(s)
Cillian Darcy
7- 10
Lose
Ad blocker interference detected!
Wikia is a free-to-use site that makes money from advertising. We have a modified experience for viewers using ad blockers

Wikia is not accessible if you've made further modifications. Remove the custom ad blocker rule(s) and the page will load as expected.