Moonlight
Format
Anime, animated, fantasy, comedy
Created by
Shanell0420
Writer(s)
Shanell0420
No. of episodes
9
English Network
Network 5
First aired
Spring 2015

Moonlight (月明かり Tsukiakari) is a fantasy comedy anime/manga series created by Shanell0420.
Masako Kurumi was a 14-year-old girl who is a witch with magical powers. She falls for a mortal named Itsuko Sakawa. Even thought she can save the world from evil, she can use her magical wand.
Characters
Edit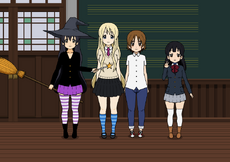 Masako Kurumi (voiced by Ami Koshimizu, japanese and Wendee Lee, english), the main protagonist who was a witch. She is 14 years old.
Yuki Kurumi (voiced by Mana Ashida, japanese and Melissa Hahn, english), the 9-year-old sister and the apprentice of Masako.
School Students
Edit
Takura Yumaga (voiced by Saki Fujita, japanese and Brina Palencia, english), Masako's 16-year-old friend and the secondary character.
Itsuko Sakawa (voiced by Shinya Hamazoe, japanese and Brian Drummond, english), Masako's 15-year-old love interest.
Otoka Shirimo (voiced by Mai Nakahara, japanese and Kiernan Shipka, english), the 14-year-old friend of Masako and classmate.
Rose Otayashi (voiced by Ayahi Takagaki, japanese and Molly C. Quinn, english), a 16-year-old music class student.
Shira Atayaki (voiced by Kana Asumi, japanese and Kirsten Dunst, english) a 15-year-old classmate of Rose and a music class student. She was a witch who trains magic.
Ato Yukowa (voiced by Daisuke Sakaguchi, japanese and Robbie Daymond, english), Itsuko's 17-year-old rival.
Hanji Hatasakowa (voiced by Rie Kugimiya, japanese and Tara Strong, english
Satako Kurumi (voiced by Marika Matsumoto, japanese and Larisa Oleynik, english), Masako and Yuki's 35-year-old mother.
Takaro Kurumi (voiced by Takeshi Maeda, japanese and Dan Green, english), Masako and Yuki's 41-year-old father.
Sakuya Yukowa-Toshoko (voiced by Nozomi Ohashi, Japanese and Johnny Sequoyah, English), Ato's 11-year-old sister and Yuki's friend.
Main article: List of Moonlight episodes