Mirabelle Cartwright



Age

16

Gender

Female

Bonded Pixie

Shouyousei Title

Lady Shouyousei Kumi/Dainty Heart
Kumiko Monroe (Mirabelle Cartwright in english dub) is the 4th main protagonist in Maho Shouyousei Shojo Momoko. She appeared in episode 14, along with Onna (Belle).
Personality
Edit
TBA
Appearance
Edit
TBA
Pixie Partner
Edit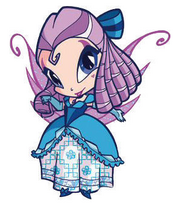 Powers and Ablilites
Edit
When Kumiko was given the Etquitte Compact, she and Onna are fused together to transform Kumiko into "
Lady Shouyousei Kumi"
(Dainty Heart in dub).
Ad blocker interference detected!
Wikia is a free-to-use site that makes money from advertising. We have a modified experience for viewers using ad blockers

Wikia is not accessible if you've made further modifications. Remove the custom ad blocker rule(s) and the page will load as expected.