Ad blocker interference detected!
Wikia is a free-to-use site that makes money from advertising. We have a modified experience for viewers using ad blockers

Wikia is not accessible if you've made further modifications. Remove the custom ad blocker rule(s) and the page will load as expected.
Kingdom Parappa is an animated series created by MarioSonic1243. It is a spin-off to the original P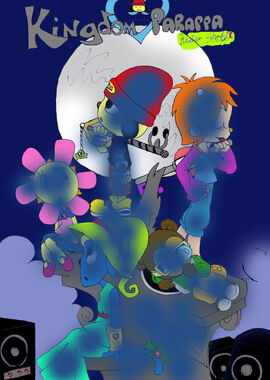 aRappa the Rapper series and (chronologically) the second installment in the
Kingdom Parappa series
. It also has a
midquel movie
,
prequel
, and a
sequel
.
Characters
Edit
Protagonists
Edit
Parappa the Rapper
Lammy
Sunny Funny
Katy Kat
Pj Berri
Matt Major
Paula Fox
Pinto Rappa
Ma-San
Antagonists
Edit
Opening Themes
Edit
1. Kizuna (Bond) by Kra (Episodes 1-45)
2. Paper Moon by Tommy Heavenly (Episodes 46-90)
3. Simple and Clean (PLANITb Remix) by Utada Hikaru (Japanese Version) (Episodes 91-102)
Ending Themes
Edit
1. Kesenai Tsumi (Inerasable Sin) by Nana Kitade (Episodes 1-18)
2. Uso (Lie) by SID (Episodes 19-30)
3. Boku wa Mainichi, Yume wo Miru (Every Day, I am Dreaming) (I. D. E. A.) by RoST (Episodes 31-46)
4. Lazy Mind by Showtaro Morikubo (Episodes 47-58)
5. One More Chance by Yukie Nakama (Episodes 59 and 60)
6. Mizu no Naka (Inside the Water) by Mosquito-Milk (Episodes 61-101)
7. Simple and Clean (Original Version) by Utada Hikaru (Japanese Version) (Episode 102)