Kingdom Parappa is an animated series created by MarioSonic1243. It is a spin-off to the original P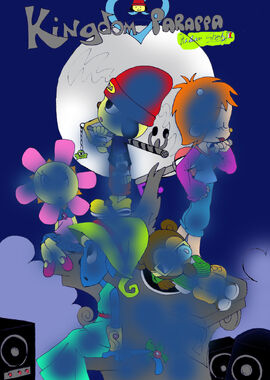 aRappa the Rapper series and (chronologically) the second installment in the
Kingdom Parappa series
. It also has a
midquel movie
,
prequel
, and a
sequel
.
Characters
Edit
Protagonists
Edit
Parappa the Rapper
Lammy
Sunny Funny
Katy Kat
Pj Berri
Matt Major
Paula Fox
Pinto Rappa
Ma-San
Antagonists
Edit
Opening Themes
Edit
1. Kizuna (Bond) by Kra (Episodes 1-45)
2. Paper Moon by Tommy Heavenly (Episodes 46-90)
3. Simple and Clean (PLANITb Remix) by Utada Hikaru (Japanese Version) (Episodes 91-102)
Ending Themes
Edit
1. Kesenai Tsumi (Inerasable Sin) by Nana Kitade (Episodes 1-18)
2. Uso (Lie) by SID (Episodes 19-30)
3. Boku wa Mainichi, Yume wo Miru (Every Day, I am Dreaming) (I. D. E. A.) by RoST (Episodes 31-46)
4. Lazy Mind by Showtaro Morikubo (Episodes 47-58)
5. One More Chance by Yukie Nakama (Episodes 59 and 60)
6. Mizu no Naka (Inside the Water) by Mosquito-Milk (Episodes 61-101)
7. Simple and Clean (Original Version) by Utada Hikaru (Japanese Version) (Episode 102)
Ad blocker interference detected!
Wikia is a free-to-use site that makes money from advertising. We have a modified experience for viewers using ad blockers

Wikia is not accessible if you've made further modifications. Remove the custom ad blocker rule(s) and the page will load as expected.