Koreuto: It Raccoon Please! Not Childhood Friends and Sparkles!
Format
Romantic Comedy, Fantasy, Anime Series
Created by
Terrancepom56
No. of episodes
26
Run time
April 7,2011 - present
Rated
TV-MA [D, L, S, V,]
English Network
BS-TBS, Centipede Network
First aired
Slash Down Boy and Boy Shame
Last aired
Pup Healing
DO NOT EDIT!
It Raccoon Please! Not Childhood Friends and Sparkles! (これは、ラクーンてください!ていない幼児を見るとSparkles!, Kore wa, rakūnte kudasai! Te inai yōji o miruto supākuru!?) is Anime Series Creator by: Terrancepom56.
Main Characters
Edit
John Harvey Sanchez (ハーベイ Hābei) Main' Protagonists
Shelly Cruz (シェリー Sherī)

Phone: Samsung Galaxy S
Weapon(s): Nodachi
Attack type: Magical

Erica Mae Cruz (エリカメイ Erikamei)

Phone: Samsung Galaxy Tab
Weapon(s): M9 Pistol
Attack type: Killer
Style: Arashiko Yuno From MM!

Marco Cruz (マルコ Maruko)

Phone: Samsung Wave II
Weapon(s): Small arms
Attack type: Massacre
Main VoiceEdit
Character
Seiyū
Voice Actor
John Harvey Sanchez
Rokuro Naya
Kazane (Childhood)
Doug Lawrence
Carolyn Lawrence (Childhood)
Shelly Cruz
Maaya Sakamoto (Debut)
Yuria Nara
Jill Talley
Erica Mae Cruz
YURIA
Tara Strong
Marco Cruz
Nozomi Ōhashi
Taiki Matsuno
Cathy Cavadini
James Arnold Taylor
Supporting Characters
Edit
Kenzo Russell Smith (ケンゾーラッセル Kenzōrasseru)
Annalisa Hernandez (アンナリサ An'narisa)
Patricia Joy Broflovski (パトリシアジョイ Patorishiajoi)
Cassidy and Darlyn Marsh Supporting' Antagonist Shelly's Archenemy (キャシディとダーリン Kyashidi to dārin)
Ma. Margarita McCormick (馬。マルガリータ Uma. Marugarīta)
Daniel Donovan (ダニエル Danieru)
Howell Biggle Supporting' Deuteragonist (ハウエル Haueru)
Nat Donovan (ナット Natto)
Kaila Valmer (カイラ Kaira)
Terrence Joseph McCormick (テレンスジョセフ Terensujosefu)
Theodore McCormick (セオドア Seodoa)
Jonell Cartman (ジョネル Joneru)
April Rose Stevens (月ローズ Tsukirōzu)
Paolo Broflovski (ポール Pōru)
Angel Crabtree (エンジェル Enjeru)
Alfred Choksondik (アルフレッド Arufureddo)
Marice and Patrick Pirrup (マリスとパトリック Marisu to patorikku)
Josh-Josh McDaniels (して、Josh-ジョシュ Shite, Josh - joshu)
Sandy, Princess and Kristina Garrison (サンディー、プリンセスとして、アンナ Sandī, purinsesu, An'na)
Kristine Valmer (して、Kristine Shite, Kristine)
Jolly Gerblansky (嬉々たる Jorī)
Silvia Argyle (シルビア Shirubia)
Helen Kern (ヘレン Heren)
Franny Kimble (フラニー Furanī)
Angelina Kimble (アンジェリーナ Anjerīna)
Alvin Swanson (アルバン Aruban)
Princess Mae Faulk (プリンセスメイ Purinsesumei)
Rebecca Maru (レベッカ Rebekka)
Roger Stoley (ロジャー Rojā)
Kier Stoley (キール Kīru)
Kevin Dog (ケビン Kebin)
Fiona Goodman (フィオナ)
Alfred Goodman (アルフレッド Arufureddo)
Slash Down Boy and Boy Shame (ダウンスラッシュボーイ少年と恥 Daunsurasshubōi shōnen to haji)
A Piñata Named Tweak! (ピニャータは、Tweak名前付き! Pinyāta wa, Tweak namae-tsuki!)
Valentine Party (バレンタインパーティ Barentainpāti)
24/7 (7分の24 7-Bun'no 24)
The Adventures of Shelly and Erica Mae (シェリーさんとエリカメイの冒険 Sherī-san to erikamei no bōken)
Party Central (党中央 Tō chūō)
Marco and Shelly (マルコとシェリー Maruko to sherī) (Aka: Now & Forever (今すぐ&永遠に Ima sugu& eien ni))
Little Bunny Foo-Foo (リトルバニーフー- Fooさん Ritorubanīfū - Foo-san)
Pixie Harmony (ピクシーハーモニー Pikushīhāmonī)
Weird Stuff (奇妙なもの Kimyōna mono)
A Very Special Erica Mae (非常に特別なエリカメイ Hijō ni tokubetsuna erikamei)
Los Dos Darlyn (ロサンゼルスは、ダーリンドス Rosanzerusu wa, dārindosu)
Squid-Gone (イカゴーン Ikagōn)
Sweet 'N Sour (スウィートñサワー Suu~īto ñ sawā)
Daniel's Bottom Bitch (ダニエルさんのボトムビッチ Danieru-san no botomubitchi)
My Naughty Raccoon (マイラクーンいたずら Mairakūn itazura)
The Human Cent Raccoon (人間ラクーンセント Ningen rakūnsento)
Shut Your Fucking Face (あなたのクソフェイスをシャットダウン Anata no kusofeisu o shattodaun)
Pilipino Krismas Medley (フィリピンクリスマスメドレー Firipinkurisumasumedorē)
Not So Tsunami! (ていないので津波!Te inainode tsunami!)
Shelly the Whore and Harvey the Cocksucker (シェリー娼婦やハーヴェイ下劣な男 Sherī shōfu ya hāvu~ei geretsuna otoko)
Shelly Last Slights (最後に侮辱して, シェリー Saigo ni bujoku shite, Sherī)
The Amazing World of Marco (マルコのすばらしい世界 Maruko no subarashii sekai)
Bad Cassidy Marsh! (悪いカシディマーシュ!Warui kashidimāshu!)
My Girlfriend is a Raccoon (僕の彼女はラクーンです Boku no kanojo wa rakūndesu)
Pup Healing (子犬を癒し Koinu o iyashi)
Opening and Ending Theme Songs
Edit
Opening Ep 1-26
Ending Ep 1-26
Ending 52

I'll Be There (私は、アイルビーゼア Watashi wa, airubīzea)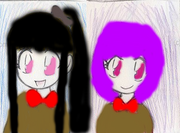 Koreuto Wikia
Edit
http://itraccoonpleasenotchildhoodfriendsandsparkles.wikia.com/wiki/It_Raccoon_Please!_Not_Childhood_Friends_and_Sparkles_Wiki
Koreuto OVA
Edit
January 5,2011 - present
Episodes 10
Opening and Ending Songs
Edit
Opening

Thoughtful (思いやりのある Omoiyari no aru)

Ending

Caramell Dansens (キャラメルDansens Kyarameru Dansens)
Ad blocker interference detected!
Wikia is a free-to-use site that makes money from advertising. We have a modified experience for viewers using ad blockers

Wikia is not accessible if you've made further modifications. Remove the custom ad blocker rule(s) and the page will load as expected.