Date A Live (デート・ア・ライブ Dēto A Raibu)


Date A Live casts

Genre:

Harem, Romantic Comedy, Sci-fi, Supernatural

Written and Illunstrated by:

Kōshi Tachibana and Tsunako

Filipino Dubbed by:

TV5,Lapat-Tinig and Telesucces

MTRCB Rating

SPG (Category : T,K,S)

Opening and ED:

Date A Live (Opening by Sweet Arms)




"Save the World" by Iori Nomizu

1: "Hatsukoi Winding Road" by Kayoko Tsumita, Risako Murai and Midori Tsukimiya (ep 1)
3: "SAVE MY HEART" by Iori Nomizu (eps 3, 7)
4: "Strawberry Rain (ストロベリーレイン)" by Iori Nomizu (ep 5)
Date A Live (デート・ア・ライブ, Dēto A Raibu) is a Rated SPG Romantic-comedy-drama anime ideal for TV5 AniMEGA instead Cartoons from TV5 Kids or Movies from Movie Max 5,this could be the better anime for filipino teens and young adults.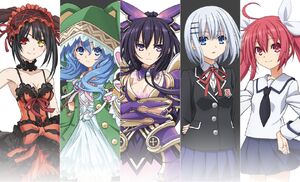 Thirty years ago a strange phenomenon called a "spacequake" devastated the center of Eurasia, claiming the lives of at least 150 million people. Since then, smaller spacequakes plague the world on an irregular basis. Shido Itsuka, a seemingly ordinary high schooler comes across a mysterious girl at the ground zero of a spacequake and learns from his sister Kotori she is one of the "Spirits" who are the real cause of the spacequakes that occur when they manifest themselves in the world. He also learns that Kotori is the commander of the airship Fraxinus, crewed by the organization Ratatoskr, and is recruited to make use of his mysterious ability to seal the Spirits' powers thus stopping them from being a threat to mankind. However, there is a catch: to seal a Spirit's power, he must make her fall in love with him and kiss her.
Note: Voice actors with asterisk are also voiced in minor character roles.
see also: Date A Live II (TV5 Dub)
The HERO TV anime cable channel already dubbed it in Filipino version see here.
Ad blocker interference detected!
Wikia is a free-to-use site that makes money from advertising. We have a modified experience for viewers using ad blockers

Wikia is not accessible if you've made further modifications. Remove the custom ad blocker rule(s) and the page will load as expected.