Azumanga Preschool
Format
Anime series
Created by
Hiroshi Nishikiori
Director(s)
Kenichiro Watanabe
Takao Kato
No. of episodes
26
Run time
30 Minutes
Network
TV Tokyo
English Network
Anime Network
Sentai Network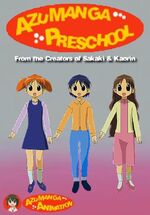 Azumanga Preschool is a prequel to Azumanga Daioh made by Azumanga Animation, it takes place before the actual Azumanga Daioh anime happened. It later had a spin-off Takeru & Hikari.
Which takes place before the actual Azumanga Daioh anime happened. Where Chiyo Chan enters 3rd grade elementary school in a class run by her teacher Mrs. Heiko. She then meets Muruchi and Yuka. They become Chiyo Chan's friends throughout the anime. And throughout the plot, Chiyo Chan gets better and better at school and always gets 100% on her work as well as playing with Miruchi and Yuka, and enjoying elementary school. But then on the last episode she leaves elementary school on 5th grades and skips ahead to high school leaving her classmates Miruchi and Yuka, which makes Chiyo Chan kind of embarrassed. But she said that she will do good even if it's hard.
The anime includes an anime show with in the anime "Detective Canine". The show is about a dog who is a detective, and goes against crime to save kittens.
Opening and Closing Themes
Edit
The opening theme is "TBA", and the closing theme is Chiyo's song "The world is NEOHAPPY."
Characters
Edit
Chiyo Mihama (Chiyo Chan)
Japanese: Tomoko Kaneda
English: Jessica Boone
Japanese: Akane Omae
English: Sasha Paysinger
Japanese: Sakura Nogawa
English: Mariela Ortiz
Japanese: Aya Hisakawa
English: Amy Birnbaum
Japanese: Norio Wakamoto
English: Jason Douglas
Japanese: Yonehiko Kitagawa
English: John Swasey
Japanese: Ryoko Nagata
English: Shelley Calene-Black
Takeru, Hikari, and Mikan from the spin-off Takeru & Hikari make some cameos in some episodes.
Sound Effects
Edit
This anime would not only use the same SFX as Azumanga Daioh due to Eiko Morikawa being the SFX editor, but would also heavily use UPA (United Productions of America) sound effects (containing both Jim McDonald Disney sound effects and Jay Ward/Rocky & Bullwinkle sound effects) for comedic parts.