Azumanga College
Format
Anime series
Created by
Hiroshi Nishikiori
Director(s)
Kenichiro Watanabe
Takao Kato
No. of episodes
20
Run time
30 Minutes
Network
TV Tokyo
English Network
Anime Network
Sentai Network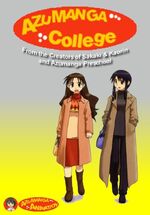 Azumanga College is a prequel to Azumanga Daioh made by Azumanga Animation, it takes place before the actual Azumanga Daioh anime happened.
Taking place before Azumanga Daioh, the two teachers Yukari & Nyamo were first classmates in college. They both become rivals at first but then suddenly become friends in the middle of the anime. Their goal is to become high school teachers (of course Yukari learning about different languages in order to become a language teacher and Nyamo learning how to be a P. E. teacher. After they finally finish college near the end of the anime, they finally become high school teachers.
Opening and Closing Themes
Edit
The opening theme is Yukari and Nyamo's song "Tenshoku Equal Kaikan no Housoku", and the closing theme is "In The Curve" (which is "Blind Curve" by Kikuchi Momoko with modified lyrics).
Characters
Edit
Japanese: Akiko Hiramatsu
English: Luci Christian
Japanese: Aya Hisakawa
English: Monica Rial
Japanese: Yuka Koyama
English: Shelley Calene-Black
Japanese: Kouji Ishii
English: Andy McAvin
Japanese: Sayaka Ohara
English: Kaytha Coker
Sound Effects
Edit
Like Azumanga Daioh, the anime uses the same SFX from its predecessor due to Eiko Morikawa being the SFX editor of the anime.